India is abundant in several mosques, which are popular among people for their graceful style of architecture and wonderful design. Here are top mosques in India, which are primarily stand out because of their sheer dazzling of simplicity and style.
01. Jama Masjid, Delhi
Situated close to the Red Fort at Chandni Chowk in Old Delhi, the heart of the national capital city of India, Jama Masjid, also referred as Masjid-UL-Jahanuma (mosque commanding the glimpse of the world), which was erected by the Mughal Emperor Shah Jahan in 1656 AD, is the largest glorious mosque in India. Constructed with white marble and red sandstone, this mosque, which is a unique blend of Islamic and Hindu architecture, is one of the popular shrines in India. Having its courtyard with its capacity of accommodating 25,000 devotees in one time, this magnificent mosque has the wider staircases constructed of red sandstone and three arched gateways to reach the courtyard from north, south and east (Royal Gate).
02. Taj-UL-Mosque, Bhopal (Madhya Pradesh)
Famed as one of the largest mosques in Asia, Taj-UL-Mosque, having its literal meaning the 'Crown of Mosques', which is located in Bhopal, the state capital city of Madhya Pradesh, has a pink facade topped by two octagonal minarets with white domes 18-storied in their height. Also playing its role as an Islamic school during the day time, this grand mosque, which is also home to three vast bulbous domes, an effective major hallway with fascinating pillars and marble flooring in resemblance of Mughal architecture like of Jama Masjid in Delhi and the large Badshahi Mosque of Lahore. Having a double storied gateway with four recessed archways and nine multifold openings in the major hall for prayer, this mosque is home to a courtyard with a large tank in the center of it.
03. Cheraman Juma Masjid (Kerala)
Constructed approx 629 AD and located at Methala Village of Kodungalloor Taluk in Kerala state, Cheraman Juma Masjid, which is believed to be the 1st mosque in India, is a place where Juma prayers were initially commenced. Being unique in its look and having a combination of the architecture of Arabian art and traditional Kerala, this mosque, which is home to the magnificently crafted woodwork, has been constructed in the Indo-Saracenic architectural style. Traditional brass lamps of Kerala, that are mostly used in Hindu temples, have been used in this mosque. Here, you can also find an old ceremonial pond, which is still intact close to this mosque. This mosque is the place where the celebration of the Bakrid and Ramadan festivals is made with much enthusiasm.
04. Moti Masjid, Bhopal (Madhya Pradesh)
Erected in 1860 AD by Sikandar Jahan Begum, the daughter of Qudisiya Begum, Moti Masjid, which has been an imperative signpost of Bhopal, the state capital city of Madhya Pradesh, is greatly eye satisfying spot in India. Being passionately recreated to untie new thoughts, Sikandar Jahan Begum was the progressive woman, who earned recognition to Bhopal as the province of the moderately enlightened. Besides abolishing slavery system, she also built conduits, roads and beautiful tombstones resembling the Moti Masjid.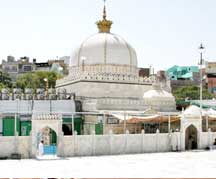 05. Dargah Sharif, Ajmer (Rajasthan)
Located in Ajmer, Rajasthan and revered by both the Muslims and Hindus, 'Dargah Sharif' or 'Holy Dargah', which is one of the holiest shrines of Muslims in India, is the tomb of Khwaja Moin-Ud-Din Chisti, a Sufi saint, approached here from Persia and dedicated his life to uplift and serve the downtrodden and poor. Having a massive gate with silver doors, the Dargah, which is built of marble with a gold plated dome, has the actual tomb of the saint surrounded by a silver railing and a marble screen. This great shrine is thronged by people of all walks of faith and life from all over the globe, irrespective of their belief, creed and caste for offering the flowers of their devotion and respect. To revere and pay tribute to this divine soul, the rich and poor stand side by side.
06. Haji Ali Mosque, Mumbai (Maharashtra)
Constructed in 1631 AD by a rich Muslim merchant and a saint named Haji Ali, who left all his temporal possessions before going to Mecca for a pilgrimage, Haji Ali Mosque, which is nestled on an island off the shore of Worli in Mumbai, the state capital city of Maharashtra, is very popular among both the Hindus and Muslims, in spite of being a mosque and Dargah. Occupying an area of 4,500 meters, the mosque has a tower of 85 feet at its height, which is the architectural highlight of the structure of it. Embellished with colored mirror work: blue, green, yellow chips, the marble pillars of the major hall have 99 names of Allah, also inscribed on them. People believe that praying at the mosque helps complete one's wishes. On every Thursday and Friday, this shrine is thronged by approx 40,000 pilgrims.
07. Tomb of Sheikh Salim Chishti, Fatehpur Sikri near Agra (Uttar Pradesh)
Nestled at Fatehpur Sikri close to Agra in Uttar Pradesh state, the charming square marble tomb of Sheikh Salim Chisti, which is one of the finest instances of Mughal architecture in India, was constructed at the spot where the renowned Sufi saint Sheikh Salim Chisti meditated all his life long. Erected by Mughal Emperor to mark his reverence and respect for the saint and finalized in 1580-81 AD, this mausoleum has its entrance with four thin pillars having abnormal Gujarati style serpentine struts curving upwards to the roof, which are very decorative. Having the tomb of the saint, the main hall of this mausoleum has its roof with a single semicircular dome. The relief around the outer wall of the mausoleum has the Arabic verses from the Quran, particularly important to the Sufis, written on it. In order to get their wishes fulfilled with belief, thousands of people of every religion and faith throng here to pray at the shrine, offer flowers and tie cotton threads.
08. Mecca Masjid/Makka Masjid, Hyderabad (Andhra Pradesh)
Situated close to Char Minar, Chowmahala Palace and Laad Bazaar, the historic landmarks of Hyderabad, the state capital city of Andhra Pradesh, Mecca Masjid, also pronounced Makka Masjid, which is one of the most ancient mosques in Hyderabad city, is one of the largest and oldest mosques in India. The 5th ruler of the Qutb Shahi dynasty, Mohammad Quli Qutb Shah built this Muslim religious site. People believe that the soil-made bricks, used for building the central arch of the mosque, were brought throughout the way from Mecca, the holy city in Saudi Arabia. Having the capacity of accommodating approx 10,000 people at a time, the main prayer hall of this mosque is 180 feet long, 220 feet wide and elevated approx 75 feet above the ground. Designed with floral frescoes and motifs and having several of the arches written with the verses from the Quran, the holy book of Muslims, this mosque is home to five passageways, octagonal balconies, arched galleries and four minarets adjoined with a small dome above each. To finalize the construction of this imposing mosque, it took the period of 77 years and approx 8,000 workers toiled as per the estimation.
09. Bara Imambara, Lucknow (Uttar Pradesh)
Said to be the world's largest arched room without any column (pillar) and situated in Lucknow, the state capital city of Uttar Pradesh, Bara Imambara or Asafi Imambara, which is neither a mosque nor a Dargah, was constructed for a noble reason by the 4th Nawab of Awadh, Nawab Asaf-ud-Dowhala. This marvel of engineering, which is regarded as one of the most stunning architectural marvels in India, took the period of 14 years to finalize the construction work of this building, which was begun in 1784 AD. The whole building is constructed of Lakhnawi bricks (small sized bricks) and lime plaster with no use of metal or wood amazingly. This amazing building also includes the three storied Bhool Bhulaiya (Labyrinth) with approx 1,000 passages, 489 identical doorways and several staircases ascending or descending.
10. Jamia Masjid, Srinagar (Jammu & Kashmir)
Situated opposite the bustling streets of the Old Bazaar at Nowhatta in Srinagar, the summer capital city of Jammu & Kashmir state, Jamia Masjid, which was constructed in 1400 AD by Sultan Sikandar, is designed in charming Indo-Saracenic architecture. Having 370 wooden pillars and the charming courtyard with the capacity of accommodating approx 20,000 people during community prayer time, this mosque is also home to its compound, set with a square garden and covered by wide lanes on all the four sides.