India, the land of pristine beauty, natural wonders, unique culture and civilization and architectural wonders, has a lot more to see and enjoy. There are plenty of adventure holiday destinations in India full of fun, pleasure and to keep you busy for the time to come. These adventure holidays destinations are in different parts of the country. If you wish to free like a bird or want to fly high up in the air or on top of the world or want to enjoy the adventure holidays in a way you love, you will have some better options of fulfilling your requirement by choosing the most amazing and preferred adventure games called as Parasailing – a game exhilarating in every sense.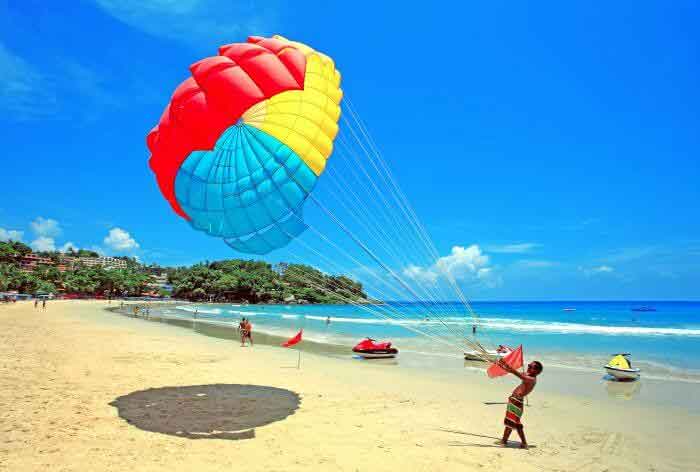 Parasailing - the Most Preferred Adventure Sports in India
Parasailing in India is gaining momentum day after day and attracting parasailing enthusiasts from across the world to enjoy the best time in a way like never before. Depending on your choice, parasailing is offered in different ways that include boat, beach and platform. Being the most preferred games in India, Parasailing is offered on wonderful beaches, and different places from the anchor vehicle that can be a boat or a vehicle on the roads. It is fully equipped with Parasail inflation systems and hydraulic winch. Beach Parasailing is quite famous that is the base for ascent and descent of the parasailing. However, permission is required before indulging in it.
Some of the Fascinated Destinations for Parasailing in India
Himachal Pradesh – a Parasailing Paradise
Himachal Pradesh is a honeymooners' paradise that always attract tourists from all walks of life and tastes to enjoy the best time. The beautiful state is also a paradise for parasailers because of having a number of parasailing spots in India. Panoramic view of Dhauladhar Ranegs and Kangra Valley create stunning surroundings; while providing you the best ways of enjoying parasailing here.
Other places to enjoy parasailing in Himachal Pradesh include Kullu, Manali, Solang Valley, Bir Billing, Dharamshala, Lahaul Spiti and different other areas. Best time to enjoy parasailing in Himachal Pradesh is from March to October.
Uttarakhand - Another Place for Parasailing Full of paradisiacal Beauty
The state that is famous for religious significance is also known worldwide for some of the best heights ideal for parasailing. Uttarakhand is a scenic state witnessing presence of snow-clad mountains, peppered with occasional greenery and a lot more. It is known for offering all encompassing view, lofty peaks, sublime water bodies, oak forests and evergreen coniferous that are making it perfect. Parasailing provides the stunning view from air. Naukuchiatal, Doon Valley, Auli and Bedni Bugyal are some of the most sought after parasailing places in Uttarakhand, India. visit ARV HOLIDAYS PVT. LTD. Or check our Tailor made Holiday Packages for Uttarakhand from here
Some parts of Maharashtra, Kerala and Rajasthan are also ideal for memorable parasailing tours in India. You can also plan for memorable parasailing tour in North-East Part of India. You have to choose the right destinations according to your choice and book package to the right travel agency or tour operator according to your choice.
Also, we have tailor made India Tour Packages for you, in which you will experience all these activities. For more information you can contact our parasailing tours Specialist from here : arvholidays.com/indiatour